WAVE – GOTIK – TREFFEN 2015 Festival Preview – by Fotini G. aka Malice F.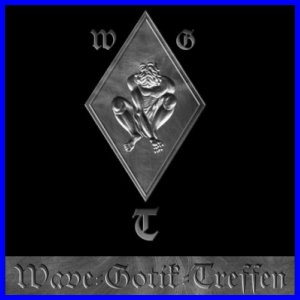 WAVE – GOTIK – TREFFEN 2015: dark-romantic celebrations every year at Whitsun in Leipzig - Germany
Festival Preview - by Malice F.
The biggest worldwide music -and not only- gothic festival is back for the 24th consecutive year. There is not a single fan of the new & dark/ EBM/ Industrial/ Neofolk /Gothic scene that hasn't heard of and furthermore hasn't dreamt of visiting it, at least once.
From May 22nd to 25th, again more than 20,000 Goths from all over the world are expected to come together again in Leipzig, Eastern Germany to celebrate the Wave-Gotik-Treffen as THE international gathering of the dark family.
24 years ago, two Gothic people from Leipzig had an unusual idea: They didn't want to create yet another dark music festival, but rather a supra-regional gathering of like-minded fellows for relaxed meeting, chatting and celebrating. When in 1992 the 1st Wave-Gotik-Treffen took place in 1992 at the edge of Leipzig with about 2,000 visitors and just a handful of bands, it is unlikely that anyone imagined that within a few years the WGT would become the largest meeting of Gothic people in the world, taking possession of a whole city every year at Whitsun.
All over the city there will be about 200 bands performing, projects and single artists covering the whole wide range of Gothic music: from Electro-Pop to Goth-Metal, from EBM to Neofolk, from medieval music to Industrial. Apart from famous bands of the scene, you are invited for new discoveries with several less-known real underground bands or artists from the edge of the Gothic music universe. The concerts and events take place at more than 50 venues spread throughout Leipzig, for instance in the vaults of the Moritzbastei, in the splendid neo-antique cupola hall of the Volkspalast, in the green round of the open-air Parkbühne, as well as in large concert halls. The WGT program will also include beautiful classical music again, such as operas, or choral and chamber music.

From its beginning the Wave-Gotik-Treffen has been much more than a music festival: its guests may step back to the romantic atmosphere of ancient times at the medieval market place at the Pagan Village (Heidnisches Dorf). We will present authors reading and unusual theatre; cinematic performances will take place as well as a big live action role play. People in historic clothing will gather in the park for a Victorian Picnic, accompanied by live chamber music. For four days a large hall at the AGRA -Messepark will be transformed into the biggest Gothic-wares marketplace in the world. In numerous clubs DJs from all over the world will invite you to dance until dawn. There will also be a large fetish party where entrance is only possible by following a strict voluptuous dress code. A stroll through the winding passages of city centre of Leipzig with its historical buildings of the Renaissance, Baroque and Jugendstil (Art Nouveau) eras is especially worthwhile for art and culture lovers: the entrance to several of Leipzig's museums is free for WGT-guests.
The city of Leipzig and its' inhabitants are extremely friendly, as well as familiar with the Festival and its' visitors. Οver the last two decades - there are no longer any prejudices and the gothic guests are very welcome here. The most fascinating aspect of the Wave-Gotik-Treffen is surely its unique magic atmosphere that covers the whole city. More than 20.000 Goths from all over the world celebrate their gathering in a peacefully relaxed manner, turning Leipzig into a diverse wave of black.
Cheap and entertaining accommodation is available at the huge Treffen camping ground. To enter, you need a special ticket (called Obsorgekarte), which includes also the extensive WGT-program-book. Public transport in the city is free for all WGT-guests from Friday morning until noontime Tuesday.
Camping:
For camping you need a special ticket called Obsorgekarte available for 25,- € (including advance sale charge). It provides the following service-package:
• Camping at the Treffen-Campground (agra-fairground)
• "Pfingstbote" ("Whitsun-herald") – the extensive Treffen program book


Parking: For car parking at the Treffen-area you have to purchase a parking vignette for 15,- € (including advance sale charges).
Parking at the Treffen-area (agra-fairground) is definitely not possible without a parking vignette.
Tickets: 4-Day-Tickets for all events within the 24th Wave-Gotik-Treffen Whitsun 2015 are available for 99,- € each in advance ticket sale (including advance sale charges). The Treffen-Event-Ticket includes free using of public transport (tram, city-busses, regional trains, suburban trains within the zone 110 of MDV) from May 22nd 8.00 a.m. to May 26th, 12.00 p.m. / noontime (except for special routes).

All tickets can be ordered via www.wave-gotik-treffen.com


We will all meet at this year's 24th Wave – Gotik – Treffen in Leipzig!
Thousands of Goths from all over the world are coming home!
- Contact:
Phone: 0049-341-2120862 / Email: This e-mail address is being protected from spambots. You need JavaScript enabled to view it
- Photos of the last years:
www.wave-gotik-treffen.de/english/photogallery.php
- Websites:
www.wave-gotik-treffen.de/english
www.facebook.com/WaveGotikTreffen

For information on the city you may check http://en.wikipedia.org/wiki/Leipzig or the official city website www.leipzig.de/int/en.

If you are travelling to the WGT for the first time, you can find lots of useful information for planning your trip on: www.sadgoth.com
The following artists have already confirmed their performances at the 24th WGT (March 16th, line-up not finished yet):
Accessory (D) - Agent Side Grinder (S) - Antimatter (GB) acoustic and electric performance - Ari Mason (USA) - Ash Code (I) - Ashes You Leave (HR) - Ashram (I) - Astari Nite (USA) - Automelodi (CDN) - Birdmachine (D) - Black Lung (AUS) - Blood And Sun (USA) - Captain Reckless & The Lost Souls (AUS) - Centhron (D) - Cromdale (D) - Deine Lakaien (D) - Die Kammer (D) - Dupont (S) - Eisregen (D) – Empathy Test (GB) - Esa (GB) - Escape With Romeo (D) - Evi Vine (GB) - Faey (D) - Fields Of The Nephilim (GB) 30th anniversary show - Fixmer/McCarthy (F/GB) - Ghosts Of Dawn (D) - Grendel (NL) - Harmjoy (D/USA) - Jo Quail (GB) - Keluar (D/GB) - King Dude (USA) – Klutae (DK) - Koffin Kats (USA) - L'ame Immortelle (A) - Last Dominion Lost (AUS) - Lisa Cuthbert (IRL) - Majdanek Waltz (RUS) - Minuit Machine (F) -Morthound (S) - Mushroom's Patience (I) - Nosferatu (GB) - NZ (A) - Orphx (CDN) - Otto Dix (RUS) - Polaroid Kiss (GB) - Rabbit At War (D) -Rezurex (USA) - Roma Amor (I) - Samsas Traum (D) - Sólstafir (IS) - Seasurfer (D) - Skyforger (LV) - Snog (AUS) - Soko Friedhof (D) - Sol Invictus (GB) perform the album "In The Rain" - Soror Dolorosa (F) - Spencer (CH) - Substaat (N) - Sweet Ermengarde (D) - Terrorfrequenz (D)- The Exploding Boy (S) - The Other (D) - The Present Moment (USA) - The Saint Paul (D) - Two Witches (FIN) - Unterschicht (D) - Unto Ashes (USA) - While Angels Watch (GB) -
For more information about the confirmed artists, there is a list of their official webpages here:
http://www.wave-gotik-treffen.de/forumwgt3/viewtopic.php?f=3&t=19543

On the WGT website, you can enroll for a newsletter which quickly informs you about the latest program updates.

WGT special tips
Apart from famous bands of the scene, the coming WGT program will again include several hidden treasures whose names are maybe not known to everybody, but which will surely perform great concerts. So before visiting the WGT, it's worthwhile to take a closer look into the program and to listen to some sample tracks of the artists you don't know. Here are some hints on a few less known, yet interesting bands and artists which will play at the WGT 2015:

Agent Side Grinder
Electronic, Post Punk | Sweden
https://www.youtube.com/watch?v=Y5eTBMIoK0I
It's hard to call this band a secret tip since their particular nature has been known for some time. The raw powercraft of The Klinik or Suicide paired with catchy synths and melodic bass tracks which could turn Peter Hook pale. Their live shows involve more than opening a laptop, instead they amaze with authentic classic synthesizers and tape-loop machines filling the stage – a feast for the ears, eyes and dancing feet.
Ash Code
Post Punk | Italy
https://www.youtube.com/watch?v=MIqgiu4RcfM
A young band riding the Post-Punk revival wave, for fans of The Soft Moon, She Past Away or Ulterior
Automelodi
Minimal Wave, Synthpop | Canada
https://www.youtube.com/watch?v=T1PDnNdTNwY
Danceable, melodic analogue Synthwave presented by a charismatic front-man with truely dynamic stage presence. For fans of their label mates such as Martial Canterel or Xeno & Oaklander, who have already graced the WGT with their performances.
Black Lung
Electro, IDM | Australia
https://www.youtube.com/watch?v=3ZUMLgRHhPo
The somewhat more straightforward techno-project of David Thrussell, alias SNOG. For fans of labels such as Ant-Zen or Warp.
Blood And Sun
Neofolk | USA
https://www.youtube.com/watch?v=kpEbW0ecI4s
Ok, with a name like that, it's hardly necessary to tell you what genre they play. But putting aside the clichés, this a lovely new addition to an otherwise nearly dead genre.
Empathy Test
Synthpop | Great Britain
https://www.youtube.com/watch?v=SxFGMVUb2mo
A very young duo from London whose catchy tunes have already rightfully earned them a larger audience.
Evi Vine
Post Rock, Ethereal | Great Britain
https://www.youtube.com/watch?v=vOv7W-13zQs
Although she deserves to be idolised by millions, she's shockingly still playing tiny clubs. Some are already familiar with her from her collaboration with The Eden House. She recently released her second album and it seems fitting that this exceptional artists will receive the attention she deserves. There are very few female voices which are so magnetic and embedded in dreamy music which captivates the heart.
Keluar
Minimal Synth | Germany/Great Britain
https://www.youtube.com/watch?v=wIZmtzUCGjk
The quasi follow-up project from the divine Linea Aspera. In comparison, somewhat colder and harder, yet just as stunning as ever, owing above all to the voice of "Zoè Zanias" which goes straight under the skin.
Last Dominion Lost
Industrial | Australia/Great Britain
https://www.youtube.com/watch?v=phFZ9qkyZgY
Cult-project from former members of the Industrial pioneers SPK. Guaranteed 101% glow stick free.
King Dude
Dark Folk, Americana | USA
https://www.youtube.com/watch?v=BiSnI8vyxx0
Some refer to him as the reincarnation of Johnny Cash. While not entirely accurate, the sombre American folk of Thomas Jefferson Cowgill is certainly thrilling in its own way and capable of producing a consensus among members of widely varying sub-scenes.
Lisa Cuthbert
Alternative, Dark Rock | Great Britain
https://www.youtube.com/watch?v=pvFcY7p0lHk
The press labels her as "the dark Tori Amos", which comes fairly close. Some of you may have seen her WGT debut in 2010 or her appearances as guest singer with Antimatter or the Sisters. In any case a worthy experience.
Minuit Machine
Minimal-Synth, Wave | France
https://www.youtube.com/watch?v=FR_KwstD7dM
After the dissolution of the magnificent Phosphor one of the follow-up projects from the pen of incomprehensible talented Hélène de Thoury comes to Leipzig. Their debut album "Live & Destroy" is the standard for everything that happens in this genre in 2015. Each title is a milestone.
NZ
EBM | Austria
https://www.youtube.com/watch?v=nZL3BdTpzC0
A young project with clear role models: Pouppée Fabrikk and Nitzer Ebb.
Orphx
Industrial, Techno, IDM | Canada
https://www.youtube.com/watch?v=D5QzeanQTYI
Cult project from the high-grade technoid industrial scene – for the first time at WGT, finally!
Polaroid Kiss
Synthpop, Alternative | Great Britain
https://www.youtube.com/watch?v=fw1RiP618sY
Highly promising project from producer Brandun Reed with the ex-drummer from Placebo (Steve Hewitt) and other guests.
Seasurfer
Indie, Shoegaze, Dreampop | Germany
https://www.youtube.com/watch?v=IvQC-ECRRts
Slowdive-guitars paired with Brian-Molko-vocals. That's what Seasurfer sounded like, at least until recently when the former singer left the band.
They are currently working with the Dark Orange singer Julia Beyer, who moves the sound slightly towards the Cocteau Twins' "Heaven Or Las Vegas" era. It will be interesting to hear how that comes across live. With Dirk Knight (also Dark Orange), Jojo Brandt (The Convent) and Volker Zacharias (Cassandra Complex, Girls Under Glass) these are definitely seasoned professionals on stage.
Snog
Electro, Experimental, IDM | Australia
https://www.youtube.com/watch?v=dFaqsc4lNyk
A band which absolutely cannot be shoved into just one drawer. Over the course of their career techno touches upon country, EBM encroaches upon folk. The live implementation should hold us all in suspense.
Sólstafir
Post Rock, Black Metal, Alternative | Iceland
https://www.youtube.com/watch?v=GL3LVlDtoUY
"Sigur Rós goes Metal" writes the press. And they're both right and wrong. A typical Icelandic band which falls between the lines and brings a weary smile to the lips when trying to classify their genre. Their videos are also impressive.
Sweet Ermengarde
Gothic Rock | Germany
https://www.youtube.com/watch?v=42Q0sNZ9yR4
Interesting new band which doesn't need to reinvent the wheel to delight. They obviously have at least two albums from the Fields on their shelf, but what could be wrong with that?
The Present Moment
Minimal Synth | USA
https://www.youtube.com/watch?v=4hs_r2_iuVo
Another band from the Mannequin Records milieu (Sixth June, Frank (Just Frank), Martial Canterel, which has never before played at WGT. It's time!